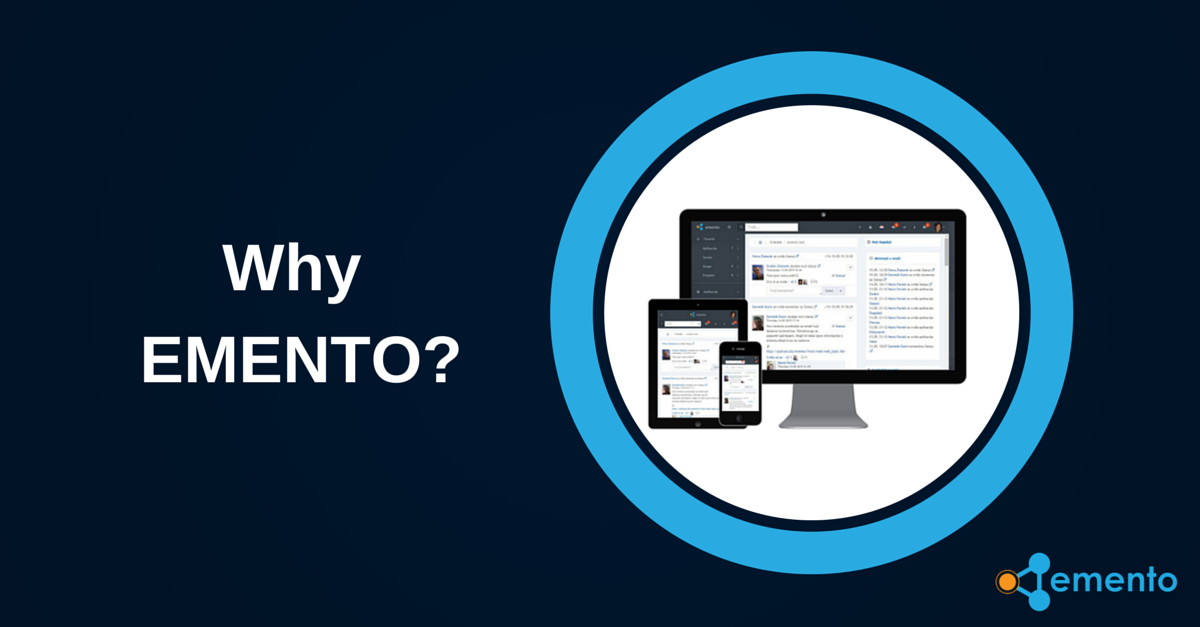 Advantages of Enterprise Social Platforms you read about on the tech and business blogs usually represent only half of the story behind this latest trend in business communication and collaboration.
In order to identify the key reasons to deploy and use Emento in enterprise, using the information and impressions of existing Emento users, we have outlined four ways to use Emento in achieving business goals.
1. Inadequate communication
Employees and customers communication requires immediate attention. Direct and transparent communication is often considered the most effective way to address serious or complex business situations.
Emento by its very nature facilitates this goal. Communication and collaboration in Emento can be done within the public workspace (organizational structure of company), or within the confined workspaces (groups and projects) where complex privacy policy is implemented.
2. Organizational changes and new initiatives
Structural changes in the organization or new business initiatives may cause uncertainty and discomfort with employees. Effective and regular communication is seen as a key component in the project and changes execution and management.
Emento is a communication channel that spreads important information to target groups of employees.
Regularly updated information and feedback (notifications) supported by the software are necessary for communication and collaboration within the enterprise. Management activities, tasks and customer relationship management focus brings the information to the real participants and keeps environment informed - creating a rich business context.
3. IT systems price and enterprise requirements
Expensive IT systems are slowly written off due to non-compliance with the requirements of the modern company. Enterprise Social Software often offer integration with older legacy systems or provide alternative replacement.
Sometimes it is a good solution, but gives the impression of compromise and insufficient quality of integration of different systems. Young employees who come to the new jobs expect intuitive and modern user interface that older systems do not provide.
Emento gives a unique solution - the platform that represents Enterprise Social Network is connected with Emento enterprise applications that allow users to easily adapt the software to their needs, without increasing the price of the software itself. Also, Emento is accessible via smartphones and tablets that extend software availability outside the office - in a quick and easy way.
4. Business complexity
The business complexity has reached a critical point where a complete executive leadership needs to find new ways of communication and management of dislocated teams.
Emento provides the tools necessary to resolve these barriers and to connect employees, determines the existing channels of communication and cooperation, but also very often creates new channels.